SMILE! YOU'RE DARK!™ TANNING LOTION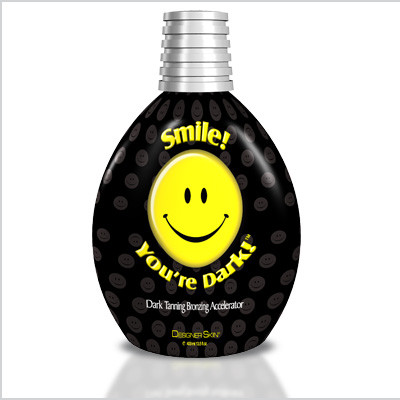 Dark Tanning Bronzing Accelerator
Type: Bronzer / Level: Builder
What makes you smile? Gorgeous bronze color reminiscent of a Caribbean vacation? Silky, soft skin reminiscent of a baby? Looking in the mirror and feeling fabulous? Well, get ready to smile for all the above reasons with Smile! You're Dark! ™ Bronzing Accelerator. They say laughter is contagious, but we actually think "smiles" are now catching on…So, let the sunshine in and get ready to grin!
Dark bronzing intensifier delivers beautiful, dark golden color
Utilizes Opti-Glow™ Blend for a healthy, radiant glow
Enriched with natural botanical oils and vita-nutrients for optimal appearance
Fragrance: Sparkling Honey
Size: 13.5oz (400ml)
SUITABLE FOR ALL SKIN TYPES!
Click here for next Tanning lotion page
Click here for all Tanning lotion page