FREEDOM™ TANNING LOTION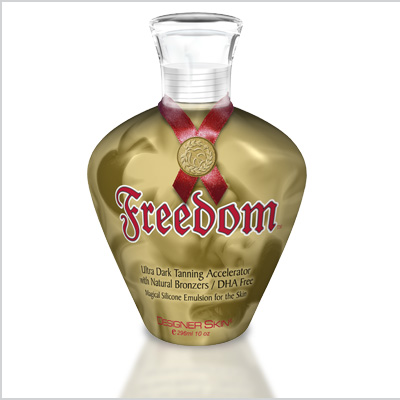 Ultra Dark Tanning Accelerator
with Natural Bronzers / DHA Free
Magical Silicone Emulsion for the Skin
Life, liberty and the pursuit of the perfect tan. Well, my friend, bronze redemption is finally within reach. Revel in exhilarating Freedom™, a wondrous, dark tanning accelerator infused with natural bronzers that imparts stunning deep, dark color. This natural bronzing phenomenon will indeed set you free…DHA Free, Stain Free, Streak Free, that is. Let Freedom™ reign!
Natural bronzing blend delivers gorgeous, dark color without the DHA. Streak free. Stain free

Revolutionary silicone emulsion hydrates and promotes smooth, sinfully-soft skin

Enriched with Opti-Glow™ accelerators for a more radiant appearance and a healthy looking, rosy glow

Utilizes Mega Melamax™ Optimizing Complex for gorgeous dark, tanning results
Fragrance: Sunset Vanilla
Size: 10oz (296ml)
SUITABLE FOR ALL SKIN TYPES!
Click here for next Tanning lotion page
Click here for all Tanning lotion page