HEMPHATIC™ TANNING LOTION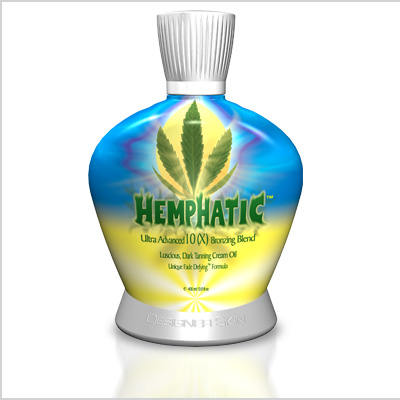 Ultra Advanced 10 (X) Bronzing Blend
Luscious, Dark Tanning Cream Oil
Type: Bronzer / Level: Breakthrough
Listen to your Mother, especially Mother Nature, who created Hemp Seed Oil, one of the richest & most balanced sources of Essential Fatty Acids & Vitamin E found in nature. The oil from this "super plant" is the basis for Hemphatic™, an advanced dark tanning cream oil that delivers the best of both worlds: a luxurious cream with the magnifying and skincare benefits of an oil. Combined into one perfect formula. Dark bronze color so spectacular, it's not of this world. Thanks, Mom.
Ultra advanced 10 bronzing blend delivers gorgeous, dark color for a visibly beautiful appearance

Enriched with Hemp Seed Oil, this wondrous Cream Oil base helps intensify for added WOW!

Utilizes 2X Opti-Glow™ Blend for a vibrant, radiant glow / Paraben-free

Fade Defying™ Properties help fight oxidative stress to maintain and prolong the life and beauty of your color
Fragrance: Tropical Ginger
Size: 13.5oz (400ml)
SUITABLE FOR ALL SKIN TYPES!
Click here for next Tanning lotion page
Click here for All Tanning lotion page