BLOOM™ TANNING LOTION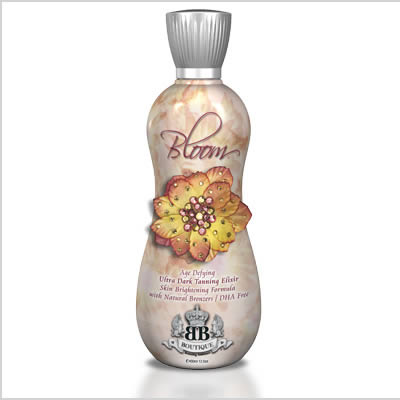 Age Defying
Ultra Dark Tanning Elixir
Skin Brightening Formula with Natural Bronzers
Watch your skin Bloom™ with intense, bronze color from this advanced skin brightening formula with natural bronzers. Not your garden variety tanning lotion, this ultra dark tanning elixir optimizes your maximum tanning potential while unveiling your skin's true radiance and beauty. Natural bronzers deliver gorgeous, dark bronze color without the worries of DHA. So, stop being a wallflower, and let yourself glow.
Skin brightening formula enriched with Opti-Glow™ Blend for a more radiant appearance and a healthy-looking, rosy glow

Natural bronzing blend delivers gorgeous, dark color without the DHA. Streak-free. Stain-free

Utilizes Mega Melamax™ Optimizing Complex for stunning, dark color
Fragrance: Fresh Bouquet
Size: 13.5oz (400ml)
SUITABLE FOR ALL SKIN TYPES!
Click here for next Tanning lotion page
Click here for all Tanning lotion page