BRONZE CAMOUFLAGE™ TANNING LOTION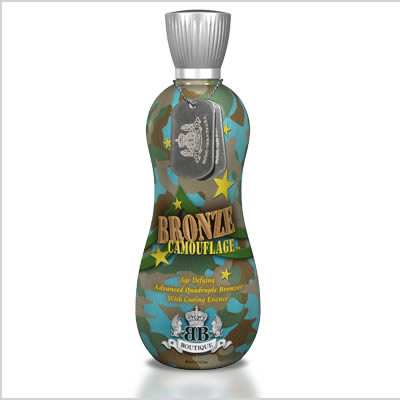 Age Defying
Advanced Quadruple Bronzer
With Cooling Essence
Attention serious tanners, Bronze Camouflage™ reporting for duty. Be forewarned that you will not blend in with your surroundings as this advanced quadruple bronzer delivers the most intense, bronze color imaginable. This hardcore elixir bathes your skin in refreshing, icy coolness while it pulls serious bronze rank, distinguishing itself above the rest. We are talking big league brass…are you ready to stand out?
Promotes exotic, dark color through its advanced quadruple bronzing blend of Tyrostan®, DHA, Black Walnut Extract, Melanin Activating Peptide and Erythrulose

Exhilarating cooling agents refresh and soothe the skin for a wondrous sensory experience

Essential ingredients help condition the skin for optimal appearance and a more defined look
Fragrance: Warm Sandalwood
Size: 13.5oz (400ml)
SUITABLE FOR ALL SKIN TYPES!
Click here for all Tanning lotion page