BRONZE ANARCHY™ TANNING LOTION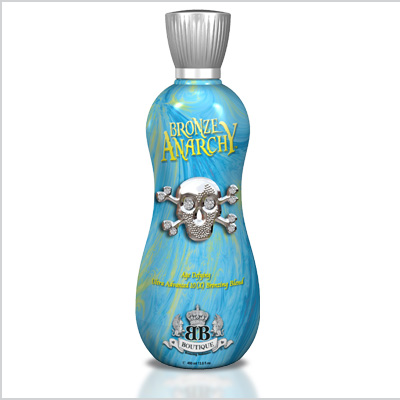 Ultra Advanced 10(X) Bronzing Blend
It's a pale, pale world full of chaos and mass confusion. Iconic rebels desperately in need of a radical bronze uprising. Join the revolution and embrace Bronze Anarchy™ Ultra Advanced 10 (X) Bronzing Blend. This advanced bronzing renegade suffuses your skin in riotous bronze color. So, Viva la Différence…and defy the spectrum of golden color!
Ultra advanced 10 bronzing blend delivers gorgeous, dark color for brilliant-lookingeffect

2X Opti-Glow™ Blend yields a radiant appearance and a healthy-looking, rosy glow

Utilizes Mega Melamax™ Optimizing Complex for stunning dark color

With botanical oils, French wine extracts and antioxidants for a luminous appearance
Fragrance: Dew & Cashmere
Size: 13.5oz (400ml)
SUITABLE FOR ALL SKIN TYPES!
Click here for next Tanning lotion page
Click here for all Tanning lotion page