14 KARATE GOLD™ TANNING LOTION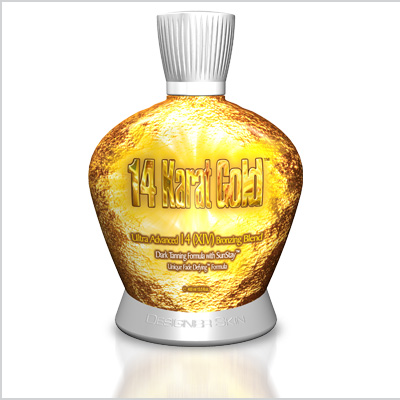 Ultra Advanced 14 (XIV) Bronzing Blend
Dark Tanning Formula with SunStay™ Technology
Type: Bronzer / Level: Breakthrough
What is better than bronze? Quite simply…Gold…as in 14 Karat Gold™. Experience extravagantly-rich, dark color as this ultra advanced 14 bronzing formula breaks through your tanning plateau into the next realm of surreal golden splendor. Advanced technology in both tanning and skincare parlayed into one extraordinary formula. Finally…an advanced bronzer worth its weight in gold!
Ultra advanced 14 bronzing blend delivers brilliant, dark color for a gorgeous-looking effect

Utilizes 2X Mega Melamax™ Optimizing Complex for dramatic, dark color while the 2X Opti-Glow™ Blend delivers a healthy-looking, radiant glow

SunStay™ Technology and Fade Defying™ Properties help maintain and prolong the life and beauty of your color while Activated Amino Acids (AAA) promote optimal bronze color / Paraben-free
Fragrance: Refreshing Citrus
Size: 13.5oz (400ml)
SUITABLE FOR ALL SKIN TYPES!
Click here for next Tanning lotion page
Click here for all Tanning lotion page