PARADISIO™ TANNING LOTION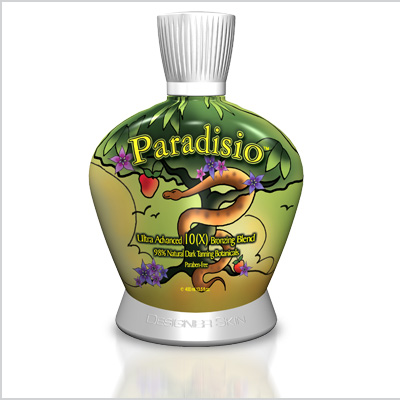 Ultra Advanced 10 (X) Bronzing Blend
98% Natural Dark Tanning Botanicals / Paraben-free
Type: Bronzer / Level: Breakthrough
Paradisio™ is quite simply heaven on earth in terms of extraordinary tanning and skincare. This ultra advanced 10 (X) bronzing blend is 98% natural and paraben-free. Organic and vegetarian-based botanicals bathe your skin in such spectacular color…it is sheer bliss. Skincare so pure even the most discriminating and sensitive souls will find glorious bronze salvation. So, escape to tanning utopia…where beauty lives.
Ultra advanced 10 bronzing blend, derived from nature, delivers gorgeous, dark color for stunning-looking effect

Utilizes a naturally-based Opti-Glow™ Blend for a healthy-looking, radiant glow

Natural body butter formula offers maximum hydration for a luscious, silky sheen

Contains antioxidant properties such as honey, which sweetens your skin as a natural humectant
Fragrance: Natural Fruit Essences
Size: 13.5oz (400ml)
SUITABLE FOR ALL SKIN TYPES!
Click here for next Tanning lotion page
Click here for all Tanning lotion page